A Complete Low-Down On Minimalist Running Shoes!
Are you ready to make the change to minimalist running shoes?
But not sure which to choose?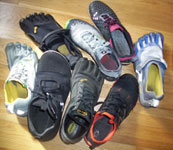 This page will help you to understand the difference between traditional and minimalist shoes and to give you a better idea of which shoe is best for you
Plus, it's always best to know what the sales person is talking about when they start babbling jargon at you - at least this way you will know what you are talking about if you get into a conversation!
What are minimalist running shoes?
First of all – a minimalist running shoe is not just a traditional running shoe without the cushioning
They're not built for support and they certainly have no motion control (which is practically swearing in minimalist circles!) - the idea is to allow your feet and body to run as naturally as possible while still getting protection from the elements
They are also known as "barefoot running shoes"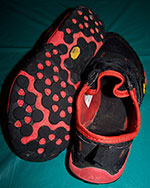 Like normal running shoes, you can get road and trail minimalist shoes and they can come with a little cushioning for extra comfort… so, let's start from the bottom of the shoe and work our way up, starting with…
The Outsole
With extreme minimalist shoes this can be as thin as 3mm (Vivobarefoot Stealth or Vibram SeeYa) or it can be a tough lugged 9mm trail sole ( Vivobarefoot Breatho Trail or Inov8 TrailRoc). The main point of these soles is that they are made from a highly compact rubber compound (think car tyre) and they offer great protection without the bounce

Another important thing to look for in a minimal sole is flexibility. Try rolling the shoe up and you should be able to roll it into a ball without any difficulty (that should please the sales assistant) - you want your foot to be able to conform to the terrain you are running on and this cannot happen in stiff soled shoes
The Heel Drop
This is the difference in height between the heel stack and the height at the front of the shoe - if the heel stack is 25mm and the front of the sole is 10mm, the heel drop is 15mm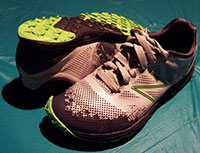 A minimal shoe should have a zero heel drop (at most 4mm), this way it won't interfere with a natural mid/fore foot strike when running
There are plenty of shoes in this zero and 4mm heel drop range:
Nike free, Altra , Brooks Puredrift, Skecher GoBionic, New Balance 110's/Minimus 10's, Merrell Bare Access and Merrell Glove as well as the whole Vibram Five Fingers range
Cushioning
The pure minimalist runner would say that any cushioning defeats the object of minimalism and inhibits ground feel etc. – but why are they not running barefoot instead of pussyfooting around in shoes then? Ummm, thought so…
Minimalist trail running shoes, such as the New Balance 110 trail or Vibram KSO TrekSport, offer a little cushioning which is useful for trail enthusiasts, but if you are attracted to that "barefoot feel" go for something more minimal instead, such as the normal Vibram KSO or New Balance Minimus
Neutral Foot Bed 
Pretty self-explanatory really, it's a flat foot bed with no arch or midsole support
Upper Material
Minimalist running shoes are usually made to be worn sockless and this means comfortable, breathable fabrics with flat seams 
A good minimalist running shoe should have a slipper like feel from the first time you wear it
The Toe-box
This should be wide so that on landing the forefoot and toes spread out naturally to support and stabilize the body
There are basically three styles of minimalist running shoe – the ones with toe pockets, the ones without and sandals
If you go for a "regular" style of shoe (without the toe-pockets), you need to make sure the toe-box has 5-7mm of room all around the front of your foot. This can feel a little loose at first but you soon appreciate the fact that your forefoot and toes need to move naturally and not be squashed up
Some thoughts…
In our opinion the best barefoot running shoes are the Vibram Five Fingers – my favourite is the Vibram Bikila LS, Andy likes the standard Bikila and Vibram KSO. The toe pocket design allows your toes to move naturally, the grip is surprisingly good and are probably the closest thing to barefoot you can experience without baring your soles completely
Running Tips HQ: 
If you are a Morton's Neuroma sufferer, the Vibram Five Fingers range are worth your consideration – the pockets allow the metatarsals to separate because the toes are separated into their individual pockets
Another great option is the "running sandal" such as the Xero Shoes or Luna Sandals – these offer amazing proprioception (sensory/body perception) while still giving your toes complete freedom of movement. Definitely worth a look, and a lot cheaper than the Five Fingers (shhh…)
(Affiliate Partner Advertisement)


Xero Shoes • Original Barefootware

- As seen on Shark Tank on ABC TV in the USA
- "Barefoot.. PLUS!™" sandals
- Worn by over 100,000 people in 100 countries, aged 2 to 92
- Great for walking, running, hiking, gym-going, yoga, the beach... everything
- You get the fun and health benefits of being barefoot, with a layer of protection
- Make them as simple as you want, or decorate them to express yourself
- Custom-made to perfectly fit your foot
- Inexpensive (starting at just £16.95!)
- 5,000 mile warranty!
- WINNER: Grovie Award - Best Huaraches Sandals
- TOP RATED: 94 out of 100 rating from The Running Clinic


Xero Shoes are the closest thing you can get to being barefoot... PLUS a layer of protection,
a perfect fit, and a style you can call your own.

Click here to learn more
So… now you know what to look for?
When looking for a minimalist shoe you need a thin floppy shoe that flaps around loosely on your foot and feels like a worn old slipper!
No, seriously though, I love minimalist running shoes and running in them is a joy – you will probably never see me in cushioned shoes again!

Be careful - it took Andy and I over 12 months to make the initial transition and we cannot stress enough the importance of a gradual transition – don't dump your old padded shoes and run as normal in minimalist shoes, follow a guided training plan like this ;-)

For example, start with a 1 mile run and then increase by 1/8 mile every other run – keep your old shoes for running in so you can still continue doing your longer runs, maintaining your fitness
Check out our Minimalist Running Transition page for a comprehensive guide and transition program (a must-read!) click here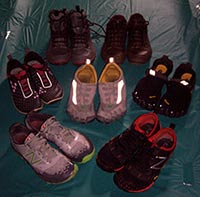 Message from Andy:
I thought I would chip in here and say something for the guys, that is, "WATCH OUT!" 
– if you have a wife or girlfriend and they have a passion for shoes (they all do, right?), buying minimalist running shoes might mean taking out an extra loan!
I've replaced my whole footwear range to accommodate hiking, casual and smart (as well as 3 pairs for running), so I have no room to talk - but unfortunately my wife has done the same…
- and now I have no money left!
Doh! 
 :-)
Your Guide to Minimalist Running and How to Make the Transition Slowly
If you want to know how to make the transition to a  minimalist running shoe. How do it safely. All you need is a weekly training schedule like this…
---
---
---
To return from Minimalist Running Shoes back to the home page, click here