Feeling Naffed Off With All The Confusing Running Tips …The Endless Information?

Don't worry! Here at My Running Tips .com we know just how you feel!

Sometimes it's hard to enjoy running under the weight of all the confusing, contradictory running advice out there, especially if you are a beginner runner
So, let's lighten the load shall we :-)

It's hard enough finding the time to run, you don't want to be spending hours on the internet trawling through different websites looking for answers to your running questions and then wondering whether you have the right answers
Here, we like to de-bunk the myth-information about running and do the leg work for you ;-)

"We..?"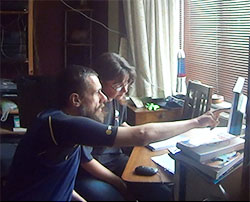 – Hello! I'm Andy and this is my wife Julie.
MyRT consists of me and the missus working to bring you this "one-stop running resource" - somewhere you can call home with big comfy chairs and friendly faces!

If you are looking to improve your running, start running from scratch or heading towards another marathon; if running is your thing you've found the right space!

OK, here's the deal:
If you bring the motivation, we will provide all the practical tools that you need for your running to succeed
(minus the hard sell and BS)

We are not employed by a "brand" or work for any particular sponsor. The information we provide here is free, impartial and comes from nearly 20 years of running experience and regular research

We don't have our own product or service to sell, this site is financed through advertisements and selected affiliates. When reviewing any product or service we will provide an honest, unbiased opinion and will only review things we have had first-hand experience with

If we believe something is sub-standard or poor we don't mind saying so; likewise if something is good quality we'll recommend it

Remember… our aim here is to guide you toward achieving your potential and you can do that with training knowledge and experience

So... let's get started!
Within My Running Tips .com you will find:
Running programs 
Running Biomechanics
Marathon training 
Barefoot running (why?)
How to stay motivated
Nutritional information
and much more, of course...

Here, we prefer a no-nonsense approach to running matters, providing you with valuable information and  training resources which are worth your time – we hate hype!

Behind the scenes Julie and I always cross-reference our information with reliable, science-based materials, qualified research papers and anecdotal evidence - but the thing about writing a site like this is that we inevitably have to venture an opinion…


 – feel free to disagree with us! Just drop us a line - we love a good discussion, argument, punch-up ;-)

While you are flicking through the site watch out for the Running Tips HQ boxes – these have useful snippets of running advice, side-topics (after-thoughts) and some of the real running issues... things like,

Why do running shoes still smell after I've washed them? and…

Do my running tights make me look less manly?

Well… like I said, it's all here!

So pull up a chair, relax, and we'll try to answer all your questions ;-)

Best of luck to you!

Andy & Julie
Running Tips HQ:  
So... how do you get the stink out of running shoes? - hand-wash them and stick them in the freezer for 24 hours – freezing kills the bacteria which cause the shoes to smell. There, job done!
---
---
Beginner runner? – Here is a handy list of our Top Ten Beginner Running Tips to get you started... more

---
Try our Couch To 5K walk/run training program – it does what it says on the tin, from "couch" to running your first 5K in 8 weeks (no previous running experience needed!)... more

---
Or put the kettle on and read all about the History of Running from the My Running Tips Article section... more